Many of our clients have used publishing as a way to reach a broader audience, grow their practices, and get their message out. For the past 17 years, the Writers' Group has had the privilege of being part of the dialogue on health and wellness, working on more than 40 books in this arena.

Who We Serve
Clients and coauthors have included academics, acupuncturists, administrators, consultants, health coaches, information specialists, nurses, nutritionists, physicians, physiologists, program planners, and researchers. We've participated on projects with three chiropractors who also hold PhDs.
Thought leaders with whom we've worked have included Leo Galland, MD; Tracey Gaudet, MD, Director, Duke Center for Integrative Medicine; Russell Jaffe, MD, PhD, ELISA/ACT Biotechnologies; William B. Stewart, Director, Institute of Health and Healing; and Thomas Trompeter, CEO, King County Public Health Department.
Selected Books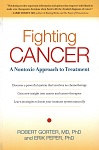 The Book – Robert Gorter, MD, PhD, and Erik Peper, PhD. Fighting Cancer: A Nontoxic Approach to Treatment. North Atlantic, 2012.
The Project – This important book focuses on the role of immune function in cancer. Dr. Robert Gorter, trained in Amsterdam and for 10 years served as physician, researcher, and then medical director of the Department of AIDS Epidemiology and Biostatistics, University of California, San Francisco Medical School, a department which provided world leadership in defining and treating AIDS. He has spent the past 20 years applying lessons learned from the AIDS epidemic to the treatment of cancer. The editor's role involved organizing the massive amount of supporting research and making it accessible to lay readers, while retaining scientific accuracy.
Colleague Testimonials – "The author's extensive research demonstrates the scientific basis for this comprehensive approach to immunotherapy that focuses on supporting and stabilizing the immune system … This is a book every patient should read." Kenneth R. Pelletier, PhD, MD(hc), professor, University of Arizona and UCSF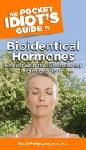 The Book – The Pocket Guide to Bioidentical Hormones. Ricki Pollycove, MD and Nancy Faass. New York: Alpha/Penguin, 2010.
The Project – The publisher already had a clearly-defined format for this Pocket Guide series, including exact word counts. In addition, they came to the project with a vision of the book. The editor served as liaison between publisher and physician to integrate the author's expertise with the vision of the acquisitions editor.
Reader Review – "I find this pocket guide refreshing, readable and most importantly factual. In a sea of nonsense and idle chatter…this concise overview sets the record straight. This little gem will become the gold standard on this topic." Reviewer from Washington, DC
Author Testimonial — "We used the 'Write by Talking' method to develop my book. Nancy goes the extra mile. Her ability to pay exquisite attention to everything throughout the project inspired total confidence." Ricki Pollycove, MD, MS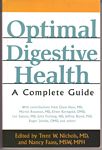 The Book – Optimal Digestive Health: A Complete Guide. Trent Nichols, MD, and Nancy Faass, eds. Healing Arts, 2005. (Second edition—One Spirit Book Club Selection; First edition—Harper/Quill, 1999, two printings).
The Project – For this book, we initially brought together 25 contributors and coauthored more than 600 pages of content. The goal of the project was to present a huge amount of leading-edge information in a highly readable format—one that consumers could skim to find the information they were seeking. It was also important to address these delicate topics with tact. Over the past 12 years, the book has been released in two editions, gone through three printings, and sold more than 20,000 copies.
Reader Reviews – "Of all of the books I have read to try to understand food sensitivities (which is about 15 by now) this one is the best. I have more faith in this one because it is written by doctors. But I could understand most of it." Reviewer from the San Francisco Bay Area, CA
"I read without stopping for about three hours after opening the book…" Health professional from Los Angeles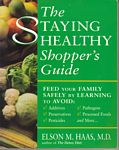 The Book – The Staying Healthy Shopper's Guide. Elson Haas, MD. Celestial Arts Press, 1999. (Writing support)
The Project – To develop the opening chapter, the author provided a wonderful interview explaining how he first began coaching patients on healthier nutrition, and how that forever changed his medical practice. Additional content was also developed by interview, and then shaped to the focus of each specific chapter.
Reader Review – "If you're trying to eat healthy and want to start buying organic foods, this is an excellent book to buy to begin your journey. " Reviewer from Michigan
Expanding Your Audience
Publishing amplifies your voice and can build your practice, consulting work, speaking career, or media presence.
Publishing and promotion require a certain level of commitment. At the end of the day, you want to know that what you publish is true to your vision, and that it is the very best it can be. We would be honored to be part of your success.
"Writers' Group developed the proposal for my new health book in just three weeks.
It was purchased for a substantial sum by our first-choice publisher."
J. Michael Menke, PhD, DC, University of Arizona