The most exciting work in mind-body medicine today focuses on the practical solutions emerging from clinical experience and research. We have had the opportunity to coauthor work in emerging areas such as trauma intervention, somatic therapies, coaching innovations, and therapeutic lifestyle.

Professionals, Authors, and Thought Leaders
Book projects have included behavioral psychology, life coaching, life purpose, lifestyle medicine, and overcoming emotional trauma. Additional published work has focused on group support, healing exercise, health coaching, imagery, medical biofeedback, medical hypnotherapy, meditation, relaxation techniques, somatic therapies, and spiritual counseling. Authors and coauthors have included:
• James Gordon, MD, director, The Center for Mind-Body Medicine; clinical professor at Georgetown University Medical School; and a world-renowned expert on healing psychological trauma, depression, and anxiety
• Douglas Mann, MD, a physician, faculty in neurology and researcher at the University of North Carolina who studies pain management and the applications of HeartMath
• Erik Peper, PhD, co-founder and faculty at the Institute for Holistic Health, SFSU, president of the European Society of Biofeedback, a researcher and consultant in workplace health and in mind-body healing
• David Rakel, MD, researcher, professor, and director of the University of Wisconsin Integrative Medicine Program whose work includes health benefits of relaxation, breath work, and meditation
• Martin Rossman, MD, physician, co-founder of the Academy for Interactive Guided Imagery, adjunct professor at UCSF medical school, and author
Selected Projects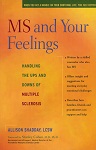 The Book – Allison Shadday, LCSW. MS and Your Feelings: Handling the Ups and Downs of Multiple Sclerosis. Hunter House, 2006.
The Project – This insightful and thoughtfully written book focuses on the challenges of MS. Written by a social worker, the author sees patients and also has MS herself. For the Writers' Group, the charge was to retain the author's voice, intent, and flow, while providing a solid copy edit.
Reader Reviews – "Allison Shadday has written a very readable and user friendly book about multiple sclerosis. Her descriptions of the disease are clear and jargon-free which makes understanding the medical aspects quite effortless." Amazon reviewer from Portland, OR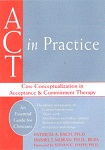 The Book – Patricia A. Bach Ph.D., Daniel J. Moran Ph.D., BCBA. Foreword by: Steven C. Hayes Ph.D. ACT in Practice: Case Conceptualization in Acceptance and Commitment Therapy. New Harbinger Publications, 2008.
The Project – This was a basic copy edit, but the editor was also charged with offering the authors options on how the content could be organized. Given the highly personal nature of writing and book development, a focus on options is a useful way to approach any project.
Reader Reviews – "Of all the ACT books available right now, this one is my favorite – it's a very readable and yet thorough guide." Review by a professional on Amazon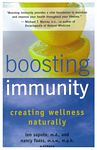 The Book – Len Saputo, MD, and Nancy Faass, eds. Boosting Immunity: Creating Wellness Naturally. New World Library, 2002. (Two printings in English; Chinese edition, 2003; Russian edition, 2008.)
The Project – One of the first books on the role of lifestyle in health, this book has gone through two printings, as well as an edition in Russian, and one in Chinese. Working closely with Dr. Saputo, the goal was to create a resource on the connection between mind/body practices and the creation of long-lasting health. The Writers' Group developed and edited contributions from a number of outstanding experts. This book was the result, breaking new ground on the subject of creating wellness naturally.
Reviews – "… provides a powerful incentive for adopting healthy practices once and for all." NAPRA ReView "… a logical foundation for making wiser lifestyle choices." Townsend Letter for Doctors & Patients
The Power of Collaboration
In your own work, you want to assure that your information and your message have an impact. We understand the organization, pacing, and resources required by an extensive project and know how to support and sustain an author throughout the publishing process.